HIGH-QUALITY PLANTATION SHUTTERS ON THE GOLD COAST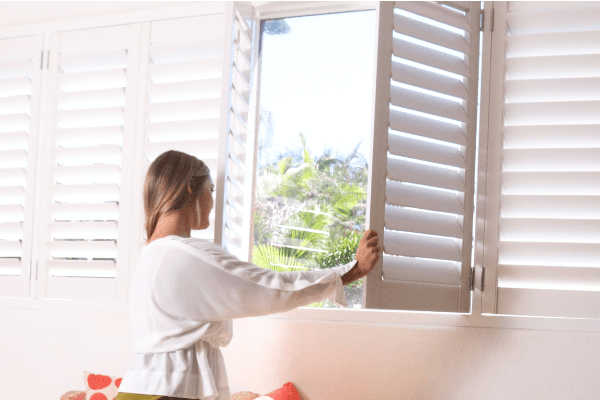 When you need to block out the bright Queensland sunshine, our plantation shutters on the Gold Coast offer the perfect solution. If you want to refresh your home's look and feel with high-performing products that won't let you down, our eco-friendly solutions are a great investment.
They are highly functional and reliable for any window or door. This is due to their proven resistance to weather and general wear and tear, the two main factors that usually cause malfunctioning and deterioration. Thanks to the adjustability of the blades, you can easily regulate the exposure to light and create the private space you need for those living in your home.
Stylish Plantation Shutters on the Gold Coast
The INSPIRE Series offers a modern, elegant, minimalistic look that will suit most spaces nicely. With an attractive and durable design, this series is made of strong yet flexible material superior to the standard wood that is usually found on the market.
We use recycled materials that reduce the environmental impact of our Signature Series, offering a solution that presents the same look and feel of wood, but with enhanced style, durability and versatility.
Our solutions are designed to be long-lasting, and this is backed up with a 15-year warranty that you can quickly transfer to new owners if you decide to sell your property. Once installed, our panels are easy to maintain, clean and keep free of dust. Furthermore, they do not need chains or cords to operate, which makes child-friendly products that are also safe for animals.
Selecting Plantation Shutters for your Gold Coast Home
It's essential to consider where you want to install these products. Depending on the existing window frame where you want to install them, you can either opt for an inside mounting (also called reveal-fit) or an outside one (also known as face-fit).
This decision will also help you choose the suitable components required for the appropriate installation of our products. Our wide range of styles and colours will also help you find the perfect look and appearance for your Gold Coast home.
Who We Are
INSPIRE Plantation Shutters is an Australian manufacturer with a passion for creating sustainable home improvement products. Everything is built in our Queensland facility, and because of this shipping usually only takes a few weeks. Consider our range and find what is perfect for you.
If you need assistance at any time, our friendly team would be delighted to help. Contact us to chat to someone about your needs.