STYLISH & FUNCTIONAL PLANTATION SHUTTERS FOR ADELAIDE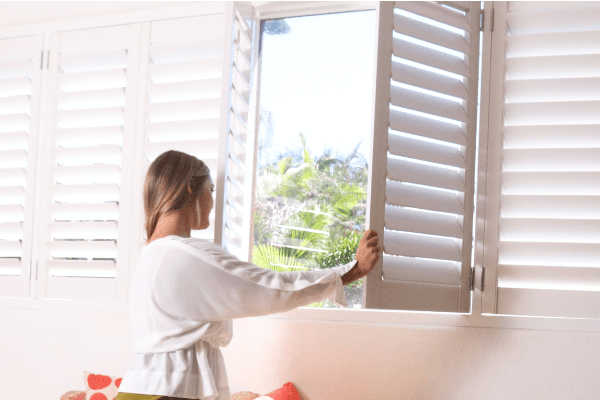 Plantation shutters are a beautiful and effective way to block out sunlight, increase privacy, and add a modern touch to your window space. Whether it's for your living, bedroom, bathroom, or somewhere else in your home, this solution is an excellent choice for modern convenience at its finest.
Our panels are also an outstanding insulator, significantly reducing energy costs for your home by keeping it cool in summer and warm in winter. The durable nature of the product means we can guarantee it won't crack, warp, shrink, or discolour, giving you long-lasting practicality when it matters most.
Our products are manufactured entirely within our Queensland facility, so we can process, make, and ship your order quickly. Most orders arrive within just 15 days.
Selecting Your Plantation Shutters
Like any solution on the market, we offer standard customisation options. This includes different models, colours, and styles that can suit any space perfectly. In addition to this, however, we provide you with the option to select the louvre blade that is right for your situation, rather than simply including a generic design.
We also offer a number of different frames to choose from, as well as the choice of either a reveal or face mount. Once you have picked the customisations that are right for you, all that's left to do is take some basic measurement of depth, height, and width of the window space. Fill out our order form and you are all set to receive your brand-new shutters!
Explore Our Range of Shutters
We provide the choice of multiple different options to find the perfect solution for your room. Our Inspire Series are a classy, modern design that is guaranteed to outlast timber and PVC alternatives. The internal panels come with a 15-year warranty, and they can save up to 35% on heating and cooling.
Meanwhile, our Signature Series includes wider panels for a different look. Depending on the design of your room and window space, the Signature Series might be the best option for your needs.
In addition to our wide range of customisation options, all our products are flame retardant, environmentally friendly, termite-proof, and water-resistant. They look and feel like wood, giving a sense of quality and durability.
Who We Are
We're a family-owned business with a state of the art manufacturing facility in the Queensland town of Stapylton. We have a passion for developing environmentally friendly home improvement products that inspire and make everyday living seamless.
If you're in need of some new shutters, our dedicated team would love to discuss your needs. Contact us online, by email, or on the phone. We look forward to hearing from you!