HIGH-QUALITY PLANTATION SHUTTERS FOR CAIRNS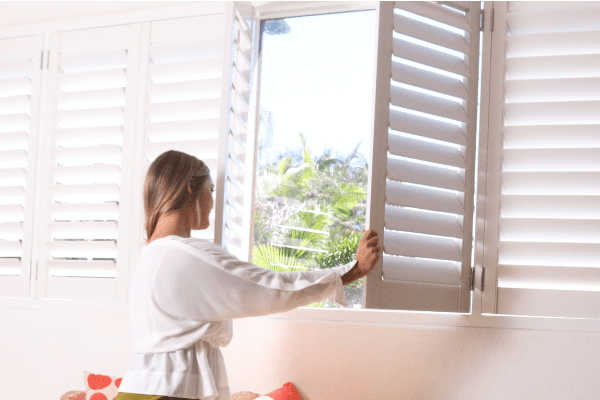 If you want to give a new look to your house in a classy and functional way, our plantation shutters in Cairns will help you achieve it. Our products are highly versatile and resistant thanks to their premium-quality and composition materials. They will last for years with very low maintenance required.
Unlike traditional curtains and blinds, they are easy to clean, which tend to attract dirt and dust. Additionally, they also add increased market value when it comes to selling your property. UV protection and thermal insulation properties will protect your well-being and save money in your pocket, making them an all-around winner for functionality and convenience.
Choosing Your Plantation Shutters
When choosing a design for your Cairns property, remember to follow some simple rules to ensure that they will be right for you:
Take measurements of the intended area of allocation as you might need to request custom sizes or install types.
Consider the existent decor of your place: try to choose a colour that mixes well with the rest.
Think of the ease of use if you are going to operate the product daily. Spending time searching for the perfect fit will prevent future complications.
Choose the right louvres size. A larger blade will create a wider view scope, while smaller blades will reduce it.
Finding the right plantation shutters can represent a difficult task. But rest assured our products will satisfy all your personal needs and preferences.
Explore Our Shutter Range Now
We have solutions for all sorts of demands related to your new product's location, accessibility, and ease of use. One of our options is hinged, which pivots around a side T post. They then fold open like a typical door or window, providing complete versatility. Keep in mind the space for the recess of the panel when installing these types of solutions.
We also have bi-fold designs. These options hinge on each other (up to 6 or 8 boards together) without the need for other support. However, they require mounting tracks to function and are commonly installed in conjunction with large doorways.
Sliding configurations are another very viable option if you do not have enough space for lateral folding panels (like hinged and bi-fold). Despite their ease of use, the set of tracks required for the installation usually does not fit window frames. Finally, we have fixed options that are less operable than the others, they represent the perfect solution for windows that generally do not open.
Contact our team now to learn which design is best for your space and circumstances.