RELIABLE PROVIDER OF PLANTATION SHUTTERS IN CANBERRA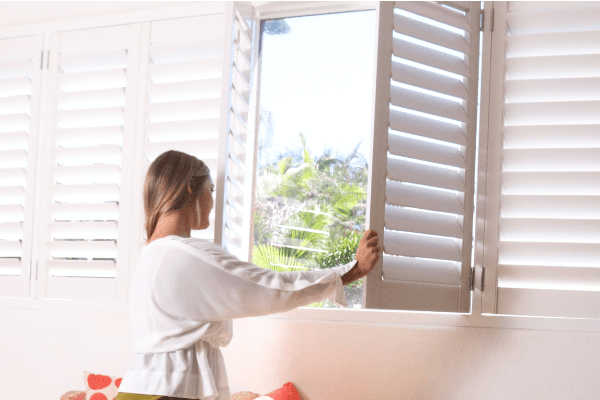 If you're looking for someone who can provide you with a high-quality, robust alternative to traditional curtains or blinds, then look no further. INSPIRE Plantation Shutters are an Australian family-owned business that designs and manufacturers sustainable products for the exterior of your home.
Our Plantation Shutter Solutions in Canberra
Here at INSPIRE, we have a number of choices and customisable options for you to choose from, so you can be sure you'll be able to get the perfect solution for your exact needs and specifications.
We have two main series of designs. The first is the INSPIRE Series, which adds an elegant and minimalistic look to your space. Then there is our Signature Series, which is a slightly more bold design. Both are excellent choices – so you'll be sure to find something that complements the existing look of your home.
In addition to our basic frame and panel designs, there is also a large range of options for you to choose from to make sure the product is best suited to your window space. This involves a number of different installation types, components and more if you want to tailor the look more towards your needs.
The Benefits of Plantation Shutters in Canberra
Plantation shutters are an excellent way to block out the light, add privacy to your home, and do all of the other obvious things. But there are numerous other benefits to these products that we don't often think about.
These solutions dramatically reduce the energy costs in your home. This is because the materials we make our frames and panels with are three times more effective at insulating your home than wood alternatives. Most customers see this as a huge benefit as it presents a much more affordable, economical, and sustainable choice.
Another plus that comes with this alternative to curtains, blinds and other traditional solutions is the robust and durable properties of the material. Our products are guaranteed not to crack, warp, shrink or discolour, so you can rest assured there is no risk of your panels being damaged as a result of wear and tear. They're also fully water-resistant and flame retardant.
Additionally, we put our money where our mouth is by offering a 15-year transferrable warranty on our whole range of solutions. Get in touch with us for a quote today.