DISCOVER PLANTATION SHUTTERS IN CENTRAL COAST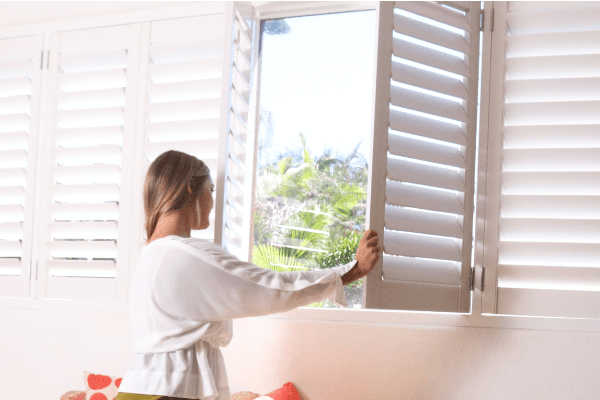 Plantation shutters are slatted blinds that are made from high-quality wood to suit the differing weather conditions of the Central Coast. The slats, or louvres, can be tilted to any angle to allow you to selectively set the mood of natural lighting in your home, whether installed on your door or windows.
There are plenty of reasons to add these convenient additions to your property. Stylish, cost-effective, highly effective in temperature regulation, and incredibly versatile, it is easy to see why they are a crowd-favourite across Australia.
We are a trusted business that can provide any type of plantation shutters along the Central Coast. Browse our wide range of intuitive designs, perfectly suited for any exterior.
Selecting Your Plantation Shutters
At Inspire, we make selecting the best plantation shutters for any Central Coast location easy. When choosing the right shutters, you'll need to consider:
The look and feel you're aiming for
Your budget and space that you're working with
Any requirements for louvre blades and other fittings involved
The possibility of obstructions to the area the shutters will be fitting in (i.e. window crank handles).
By selecting our products, you'll be providing reduced energy costs due to improved insulation, a versatile combination of light flow and privacy, and a stylish investment in any home.
Our Range of Shutter Products
We have a wide range to suit all décor types, and they'll also improve the aesthetic and insulation of any room. Depending on the desired appearance of install type, your customer may decide to choose from:
Hinged panels, which are primarily used to cover windows
Bifold panels, which can fold outwards facing the room or stack in any horizontal direction to the opening
Sliding panels, a popular choice for covering doorways
Fixed panels, which are usually used as a covering for windows that don't open
All of our products are Australian-made and come with a 15-year transferable warranty. Designed to withstand cracking or discolouring, you'll enjoy their water-resistant, long-lasting durability for years to come.
About Inspire
Based in Queensland we're a local, family-owned business with a passion for creating environmentally friendly home improvement products. Our passionate and friendly team would be happy to assist with any enquiries you may have about our plantation shutters. Contact us online, by email, or on the phone.