NEWCASTLE'S FIRST CHOICE FOR PLANTATION SHUTTERS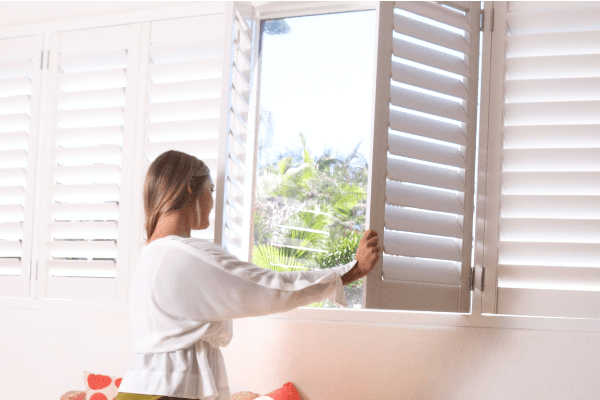 Plantation shutters are slatted blinds made to flawlessly suit any windowsill or door frame. The slats, or louvres, can be tilted to any angle to allow you to selectively set the mood of natural lighting in your Newcastle home.
They have the benefits of being versatile, modern, cost-effective, and they add insulation to your home, so there are plenty of reasons to enjoy their modern functionalities. With lots of benefits on offer, It is easy to see why they are an increasingly popular choice over regular curtains and blinds.
Inspire is a trusted business in the industry, providing a variety of plantation shutter designs to homeowners and businesses across Newcastle. From adding to the aesthetics of your property to enhancing it with more comfort and convenience, we are passionate about our evolving range of products.
Selecting Your Plantation Shutters
With Inspire, selecting the best design for any Newcastle location is easy. When considering the right choice, you'll need to keep in mind:
What look are you trying to achieve?
What style and design are you looking for?
What type of louvre blades are you after?
Are there any objects that may cause obstructions to the shutters? For example, window crank handles, architraves or locks.
By selecting our products, you'll be providing reduced energy costs due to improved insulation, a versatile combination of light flow and privacy, and a stylish investment in any home.
See Why Newcastle Loves Our Range of Shutters
We have a huge variety of options to suit all décor types, which will also improve the aesthetic and insulation of any room. Depending on personal preference and needs, you can choose from:
Hinged panels, which are primarily used to cover windows
Bifold panels, which can fold outwards facing the room or stack in any horizontal direction to the opening
Sliding panels, a popular choice for covering doorways
Fixed panels, which are usually used as a covering for windows that don't open
Our products are designed to eliminate the risk of cracking, warping, shrinking or discolouring. With a water-resistant touch – backed by powerful insulators – they're incredibly easy to clean. Enjoy a 15-year transferable warranty on every design in our range.
Plantation shutters in any Newcastle home is a clear winner over regular curtains and blinds.
What We Do
We're a family-owned business based in Queensland that has a passion for creating environmentally friendly home improvement products. Whatever it is you need, we'd love to help!
Our committed and friendly team would be happy to assist with any enquiries you may have about our products. Contact us online, by email, or on the phone.