AN ATTRACTIVE RANGE PLANTATION SHUTTERS IN SUNSHINE COAST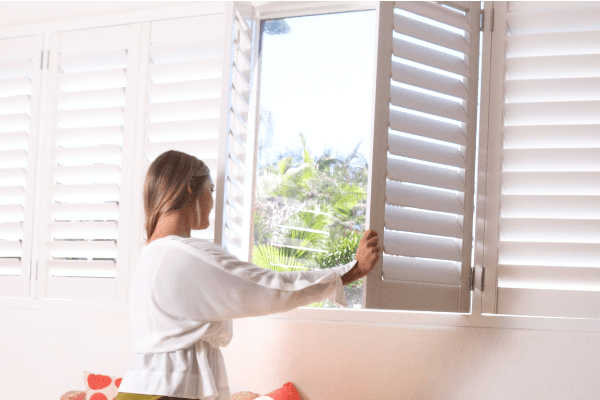 Plantation shutters are slatted blinds that are installed with the intention of being effortlessly fitted to any windowsill or door frame. The slats, or louvres, can be tilted to any angle, which allows you to choose the amount of natural lighting in your Sunshine Coast home.
Reliably built, stylish and versatile, they are a cost-effective solution to manage the light flow and insulation within any home. Customers will notice the benefits of decreased electricity bills and an increase in the value of their home. Curtains and blinds are a thing of the past – and it is easy to see why.
Inspire is a trusted business that can provide attractive solutions on the Sunshine Coast. Our diverse catalogue will improve the aesthetic and functionality of any home.
Selecting Your Plantation Shutters
With Inspire, selecting the best plantation shutters for any Sunshine Coast residence or place of business is easy. When choosing a product, you must consider:
What is your customer wanting to achieve?
What style, colours, frames, and mounts do your customers prefer?
What louvre blades does your customer prefer?
Are there any objects, such as window crank handles, locks or architraves that will obstruct the shutters?
No matter what product is chosen, they will all provide the benefits of improved insulation, style, easy maintenance, and durability to every room they're added to.
Our Range of Plantation Shutter Solutions for the Sunshine Coast
With such a wide range of panels and styles available, we can help you improve the aesthetic and insulation of any room. Depending on their intended outcomes, your customer may decide to choose between:
Hinged panels, which are a popular choice to cover windows
Bifold panels, which can fold outwards facing the room or stack in any horizontal direction to the opening
Sliding panels, a popular choice for covering doorways
Fixed panels, which are usually used as a covering for windows that don't open
Our products are guaranteed not to crack, wrap, shrink or discolour. They're all water-resistant, they are excellent home insulators, and they are simple and easy to clean. Our entire range is Australian-made and each product comes with 15-year transferable warranty.
Looking for a product like this for your Sunshine Coast home? Inspire are here to help.
About Us
As a family-owned business, we believe in making high quality products. We have a passion for creating environmentally friendly home improvement products.
Our passionate and friendly team would be happy to assist with any enquiries you may have about our products. Contact us online, by email, or on the phone.