TOP-QUALITY PLANTATION SHUTTERS IN SYDNEY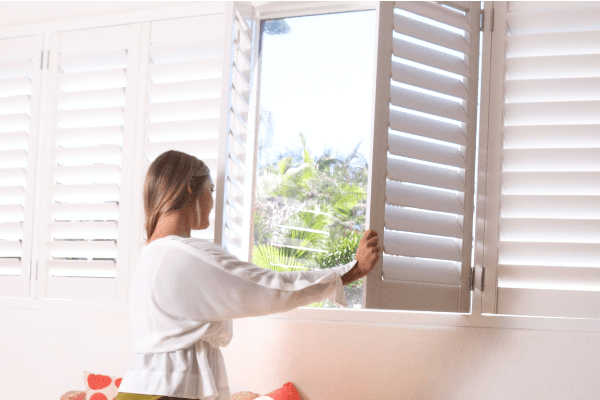 Plantation shutters are the best way to improve the functionality of your house while also considering elegance and style. We offer high-quality products that will last for years, providing the privacy you need for your indoor space, along with protection from harmful UV rays and sunlight.
Our solutions will maintain a comfortable climate inside your house so that you will enjoy warmth during winter and cool down quickly and comfortably on those hot summer days. There is also the perk of saving a bit of money. We guarantee our solutions are both water-proof and damage-proof, which will also help reduce your heating and cooling bills.
Choosing the Right Plantation Shutters in Sydney
Designing a top-notch product to fulfill your needs is our number one priority. We've designed a range of highly versatile solutions that can be fully customised to suit your needs in terms of sizes, colours, style and dimensions of the louvre blade.
Most of the plantation shutters you'll find in and around Sydney are only made with generic-style blades. Instead of this, our panels come equipped with the Clear-tilt Mechanism, so whatever blade styles you choose, you will be able to operate them effortlessly.
Our Selection of Plantation Shutters in Sydney
Once you have defined your needs, we have several different options that you can choose from. Your choice of installation type (hinged, bi-fold, sliding and more) will affect the size of the frame and components required to make the installation work smoothly and efficiently.
With our INSPIRE and Signature Series, we've got all the possibilities covered. Our comprehensive selection of panels are designed to fit any kind of space, with frames ranging from more minimalistic and elegant styles to broader and bolder designs.
The materials used in the manufacturing of our products are durable, versatile and eco-friendly – which makes them an ideal choice to meet all your expectations.
Get in Touch With Us
If you're interested in the products we offer, please don't hesitate to reach out to our dedicated and passionate team. We'd be happy to assist with any enquiries or concerns you may have regarding our solutions. You can get in touch with us by phone (07) 3916 1200 or email sales@ozroll.com.au